Complete your project on time, every time!
Your reliable source for Industrial Water Treatment Products
Browse Water Filtration Products
BEFORE AquaQuote
Can't find the right product, brand that meets specs and spend hours searching several sites?
Do you send multiple, time-consuming emails to get quotes from many, unknown suppliers?
Do you have to track numerous shipments, PO's, and payments from multiple suppliers?
Can't easily view all of your orders, quotes, tracking, messages and past products in a seamless way?
WITH AquaQuote
SEARCH, LOCATE
We find the right parts or recommend products you need as per your specifications.
ONE QUOTE
You get ONE Quote! We Find the best quote from our warehouse or supplier partners (based on your location, availability and price)
SHIPMENT CONSOLIDATION
Consolidation of multiple shipments (One invoice, One payment, One shipment)
CENTRAL HUB
Central Hub – dashboard – Monthly reports We organized all past and upcoming communications for all your procurements
No matter the industry, we can get you the parts you need.
PHARMACEUTICAL
WASTEWATER
FOOD & BEVERAGE
DESALINATION
POWER
MANUFACTURING
Your dashboard
See your RFQs, past quotes and order history all in one place.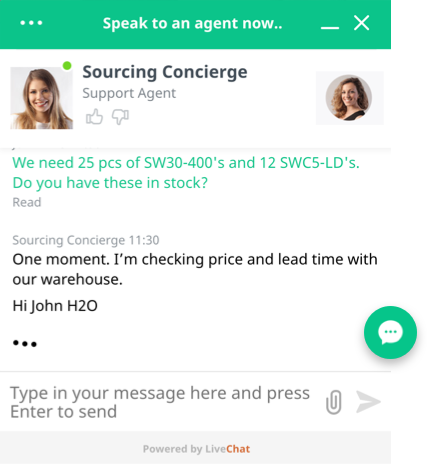 Technical Question?
Need a Quote?
Placing an Order?
Chat with us now.
*(Monday-Friday 9-5pm PST)